Even the Oscar-nominated actress' morning routine is done in style
Salma Hayek is living proof that even a cup of coffee in the morning can make a statement.
The 56-year-old actress posted a picture on Wednesday showing her serving up a heated look while sipping coffee.
Hayek was dressed to the nines as she sat on a chair with her legs crossed, donning a ruched black one-piece swimsuit with a plunging neckline. She accessorised the one-piece with a sun hat and black sunglasses, but her black platform shoes really stole the show.
"Who likes coffee? ☕️," Hayek captioned the Instagram photo, and then repeated the same phrase in Spanish.
The Magic Mike's Last Dance actress has been showing off her collection of gorgeous swimsuits this summer, and the plunging black one-piece is just the most recent.
She channelled the summer's pink Barbiecore colour trend last month by posing in a bright pink one-piece with an equally plunging neckline.
In the image from July, Hayek was beaming as she splashed around in the water with her husband, François-Henri Pinault, a French businessman. Pinault hoisted her with his back to the camera as she around his shoulders.
She honoured National Bikini Day earlier that same month with an appropriately seductive photo that showcased her excellent form and more of her stunning swimwear collection.
"Happy #NationalBikiniDay! 👙Can you believe the bikini has only been around for 77 years?! Let's hope they don't ban them too #notathrowback," the Oscar-nominated actress wrote in the post's caption as she rocked a multicolored embroidered two piece.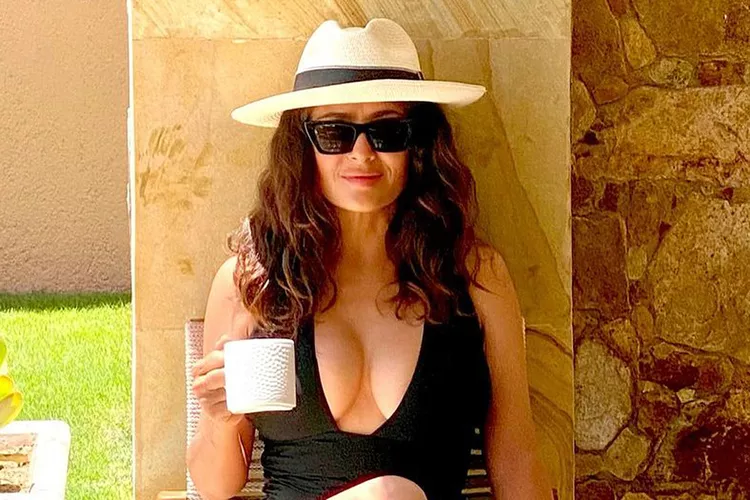 Hayek has expressed openly how her appearance has prevented her from making certain professional moves she has desired to, particularly when she was just starting out in the 1990s. Hayek is more than confident in her figure and isn't hesitant to flaunt it to the public.
She admitted to being "typecast" in roles that were similar to her breakout portrayal as a snake-and-bikini-clad Santánico Pandemonium in From Dusk Till Dawn earlier this year. 
"My entire life I wanted to do comedy and people wouldn't give me comedies," she told the outlet.
"They said, 'You're sexy, so you're not allowed to have a sense of humor.' Not only are you not allowed to be smart, but you were not allowed to be funny in the '90s."
She didn't get the opportunity to act in the type of humorous role she had been longing for until she signed on with Adam Sandler's Grown Ups in 2010. 
She now has prospects in every area, and deservedly so.
"I was sad at the time, but now here I am doing every genre, in a time in my life where they told me I would have expired – that the last 20 years I would have been out of business," she said. "So I'm not sad, I'm not angry; I'm laughing."